Two marriages that started off strong ended in adultery and gun violence, and their story was chronicled in the Investigation Discovery documentary "Till Death Us Do Part: Three Pops and a Pause." Rob Hall fatally shot Emmett Corrigan in the pharmacy parking lot in Meridian, Idaho. Emmett, who was already married, was having an affair with Kandi Hall, Rob's wife.
Rob's trial included her testimony as the only witness to the fight between the two of them. Two failing marriages are chronicled in the Investigation Discovery documentary "Til Death Us Do Part: Three Pops and a Pause," which culminates in infidelity and a tragic gunfight.
Rob Hall fatally shot Emmett Corrigan in the parking lot of a pharmacy in Meridian, Idaho. Although he was married, Emmett was having an affair with Rob's wife, Kandi Hall. At Rob's trial, she was the only witness who saw what happened between the two. Here's all we know about her whereabouts and fate if you're interested.
Who is Kandi Hall?
At the time of the incident, Kandi Hall and Rob Hall had been married for over a decade, and they had two kids, both of whom were teenagers. They had relocated to Meridian, Idaho, from California. Rob was working at the local sheriff's office as an IT specialist at the time. By September of that year (2010), Kandi had already been laid off from her job at a legal company and was actively seeking new employment opportunities.
Emmett met her through a mutual friend and quickly employed her as a paralegal at his law firm. Kandi and Rob's marriage had been on the rocks for some time. She had reportedly informed others about Rob's alleged aggressive behavior and an extramarital affair. A coworker of Kandi's also said that Rob had previously hit Kandi, leaving her with bruises.
Kandi, on the other hand, began an affair with Emmett just a few weeks after they first met. She had considered leaving Rob, as well. Emmett and Kandi went to a lawyer's office on the day of the incident to ask about it. Before Kandi got home from work on March 11, 2011, Rob had already packed his belongings and was getting ready to leave the house.
Read More: Where Is Rick Singer Now? What Happened To Him After Operation Varsity Blues?
Where Is Kandi Hall Now in 2022?
In May 2011, Kandi was arrested for stealing from her prior employment, which landed her in legal problems. Back in 2012, she entered a guilty plea on counts of major theft and computer fraud. Kandi received a lengthy jail term of 14 years from the judge. In order to be considered for parole, she had to spend at least two years.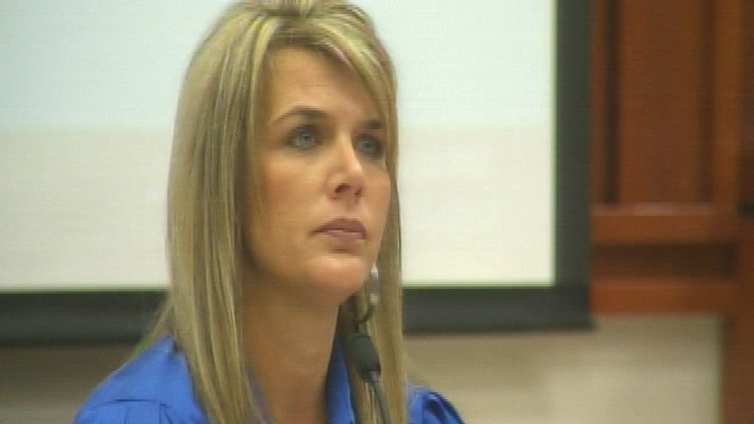 Kandi Hall was arrested on allegations of embezzling $32,000 from her former boss, a Boise, Idaho attorney who is not named Emmet, two months after the horrific shooting in March 2011. The judge then enrolled her in a retained jurisdiction program that required her to spend the next six months in a correctional facility receiving treatment.
Who Killed Emmett Corrigan?
According to the findings, Emmett Corrigan's personal life was turbulent. When Emmett opened his law office in late 2010, he hired Kandi Hall, a 40-year-old legal assistant, to help him out. Coworkers claimed they were having an affair. On the night of the event, Emmett and Kandi met at a pharmacy. She eventually settled down with Robert Hall, and the couple had two kids.
Only Kandi heard the bullet that struck Robert in the parking lot. Emmett and Kandi hopped into his pickup and drove off on March 11. She claimed they drove to a gas station, had sexual relations there, and then drove home. Rob's kid spotted her mom's car at the pharmacy and called Kandi.
According to Kandi, Rob and Emmett got into an extremely heated argument over the phone. Kandi claimed that Emmett was nasty toward her. Rob drove down, looked in the pharmacy, and then waited for them. Around Emmett and Kandi got there after 10, and Rob and Emmett Corrigan got into an argument.
She said that Emmett was responsible for starting the confrontation between her husband and his coworker. When Kandi turned around to head back to her car, she heard three shots. Rob suffered head wounds and needed medical attention. They have been arrested for first-degree murder.
Read More: Where Is Brian Bell Now? Is He in Jail in Kendrick Johnson's Murder Case?
While Emmett's hands were clean, Rob's were covered in gun residue. Rob's lawyers in his 2012 trial asserted self-defense. Rob said Emmett shoved him and the weapon dropped to the floor. According to the government's case, Rob waited for them and then shot Emmett before killing himself.